Canticle Campus is a joint effort within the Franciscan family, both Catholic and Protestant, to establish a central location of education and dialog around the role of prophetic voice in Franciscan Faith Life. The collaboration was initiated around the ecumenical efforts of the Franciscan Action Network. Written resources are pre-selected and participants are encouraged to read and provide ongoing discussion of resources through this online tool.
The intention of Canticle Campus is to build a non-profit collaboration of Franciscan Family members and Franciscan-hearted people. Our goal is to establish a free online college where knowledge, understanding, and dialog in civility, tolerance and religious freedom (in the spirit of Francis and Clare of Assisi) are primary. The classes are offered in the spirit of Francis and Clare so there is no cost except to purchase the book for the class.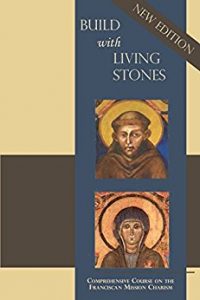 Sign up today for the Fall 2017 Canticle Campus Online Course beginning August 28th. This Semester's book is the new edition of Building With Living Stones, edited by Sr. Daria Mitchell.
The paperback is available online at Franciscan Publications.com. Be sure and order the new edition. The Kindle version is available at Amazon.com.
We will begin our class the week of August 28 and end December 9. (We will take a break the week of Thanksgiving.)
For questions or to register please email Francesca Wigle, TSSF at fwigle@gmail.com